GET THE APP!
EARN
FREE TEES & JEWELRY

Members earn free items & rewards with every qualifying purchase.
Track punches towards earning free items for the stuff you love, like jewelry & tees.

Enjoy members-only perks & get early VIP access to exclusive deals & offers.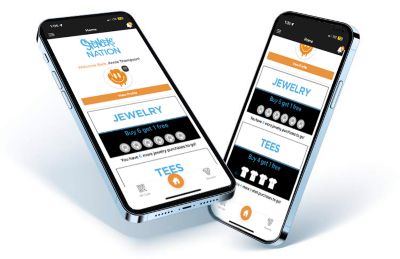 How Does Spencer's Nation Work?
To participate, you must register your mobile phone number and create an account via the App. You can access the App by downloading from the Apple App Store or the Google Play Store, or by clicking the link sent to your mobile phone number provided during checkout at any participating Spencer's store. No purchase necessary to create an Account.
How Do I Earn Free Items?
Once you complete registration in the App, you earn either a Jewelry "Punch" or a T-Shirt "Punch" with every qualified purchase at a Spencer's store location. You must earn six (6) jewelry punches for a free piece of jewelry or four (4) t-shirt punches to earn a free tee. Once you have redeemed your free item your punch card will be reset.
What Are Qualifying Free Items?
Qualifying free items include non-clearance jewelry and t-shirts sold in Spencer's stores. A qualifying purchase will exclude free items, clearance jewelry, jewelry purchased online, clearance t-shirts and t-shirts purchased online.
Who is eligible to participate?
The Spencer's Nation program is open only to legal residents of the United States who are the age of majority in their jurisdiction at the time of registration.
Can I use my rewards/punches online?
Sorry, not right now. Stay tuned for updates!
Help...My app isn't working!
Can't log in? Having trouble accessing punches? Or something else just doesn't look right? Contact our Guest Services team by email at guestservices@spencergifts.com or by phone at (800) 762-0419.