Belly button piercings are one of the most popular body piercing trends and we're here to tell you everything you need to know about it! Whether you already have a belly button piercing, or you're in the market to indulge in the sexy and sweet body mod, we're here to give you the lowdown on everything you need to know.
Before we get down to business, we want to point out some important facts. Healing time varies from person to person. Depending on your chemical makeup, you may heal faster or take longer to heal than the average person. It's best to talk to a professional piercer about healing times so you can get an accurate estimation based on your body type.
Before we get into the nitty-gritty, we wanted to quickly touch on the type of jewelry used for belly rings. Once your piercer cleans the piercing area, belly buttons are typically pierced with a 14 Gauge surgical steel or stainless steel curved barbell. Though you'll continue to wear a 14 Gauge in your belly button, your initial jewelry will likely be 7/16" to allow extra room for possible swelling. Once you're completely healed, you can switch to a 3/8" barbell or stick with the 7/16". It's all up to you!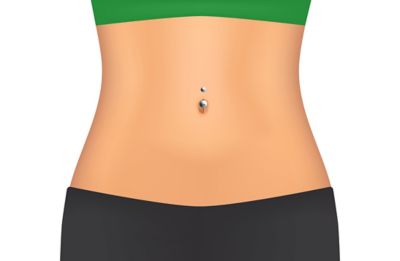 Belly Piercings
A belly piercing consists of one barbell located anywhere on your navel, whether that be on the top, bottom, or sides of your belly button. Healing time: About 3-6 months. Jewelry: Curved barbells.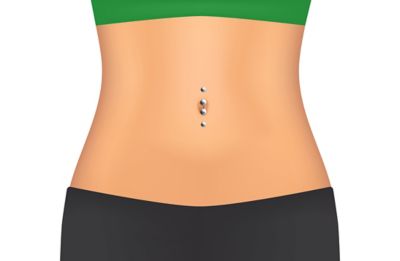 Double Belly Piercing
A double belly piercing means two piercings, typically on the top and bottom of the belly button, equalling a total of four perforations. Healing time: About 3-6 months. Jewelry: Curved barbells.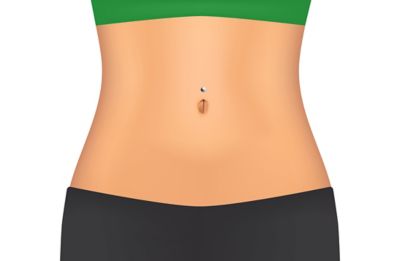 Floating Navel Piercings
A floating navel piercing is an alternative for people who cannot get a traditional belly piercing due to the anatomy of their bodies. A floating navel piercing follows the same guidelines as a traditional belly piercing, but the bottom portion is much deeper into the navel, making it nearly invisible to the eye. Healing time: About 3-6 months. Jewelry: Curved barbells.
Now that you have a better understanding of the different styles of navel piercings, here are some tips that will help you care for your new belly piercing:
Try to protect your belly piercing from getting caught on clothing. Wearing something baggy will help prevent friction and minimize the chance of your jewelry getting stuck. If you're committed to physical activity, you may want to cover the piercing with a bandage-type material to protect it from discomfort.
You'll want to decorate your belly with cute belly button rings, such as dangle belly rings, but it's very important that you do not change your belly ring until your piercing is fully healed. This will help minimize the chance of infection and ensure that your piercing heals properly.