Model Ashley Alexiss is back in part two of our interview with her and her husband, Travis, all about Christmas traditions, celebrating the holiday as a married couple, and who's better at gift wrapping. Catch up on part one if you missed finding out Ashley's top five ugly Christmas sweaters.
Spencer's: How do you decorate your home for Christmas?
Ashley: So, for Christmas, my husband and I's house looks like a black and white movie. So our Christmas tree is fully frosted in white and all of our ornaments are black, white and silver. It looks really really pretty. You think it's really boring, but it looks almost like a sinister Christmas. It's different, and I love to be different. It's something not a lot of people have, but when they see it, they go, "Oh wow, I didn't think of that. I wish I had." It's special.
We also dress the dogs up and take family Christmas photos in the morning, and we have all of our Christmas stockings that are also grey and white and sparkly, because everything with me has to sparkle.
Spencer's: Do you have company over for Christmas? Do you show off that décor?
Ashley: I usually fly my mom out for Christmas because she lives in Boston and I live in Pennsylvania now. It's always nice to be able to share Christmas with your family and friends. We invite everyone over for dinner. We just bought a house two years ago so we've only been able to do it once, but I think we'll create a tradition of it. It's really special to have everybody you love all in one place and share some fun gift giving. Hell, we can make 'em blush with our Christmas sweaters, so that's fun too.
Spencer's: What is your favorite Christmas music?
Ashley: I'm really going to show my age here, but I still love the NSYNC Merry Christmas Happy Holidays CD. It's my go-to for putting up the Christmas tree. It's from the '90s.
Spencer's: Your dogs are a big part of your life. Do you give your dogs Christmas presents? Aside from dressing them up, how do they celebrate Christmas?
Ashley: My husband and I have two dogs, Todd and Lillian. They're both rescue pups and they get spoiled to death every year for Christmas because they are our children. They have their own stockings. They get all the bones, all the treats. Todd's getting a little old; he actually got diapers for Christmas last year.
I think it's really special because we get to dress up in matching Christmas outfits—yes, we have all matching Christmas jammies with the dogs. We take Christmas photos with them and it's so sweet and precious. I also dress Todd up like a penguin. Todd is really little and I'm obsessed with penguins. I can't find a big enough costume for Lillian; she's about 40 pounds at most. We just have Todd waddling around the house; it works out because penguins waddle.
Spencer's: You love to travel. I know you're usually home on Christmas, but what would be your dream Christmas vacation if you traveled over Christmas?
Ashley: My dream Christmas vacation would be to go to Antarctica. Listen, I hate the cold as much as the next person but I love penguins so much. To be able to see the big fat four foot tall penguin that's almost my height during Christmas? That would be the best present ever. They'd be waddling and minding their own business. It'd be neat to say I've been to all seven continents. Plus the stamp on the passport is a penguin, so it's a win/win for me.
Spencer's: What's the best Christmas present you've given?
Ashley: My favorite Christmas gift I've given was to my Mom. It was a star I had named after my grandmother who passed away. It was the first Christmas without her, and the constellation that I was able to put it in represented the numbers that my mom and I used a lot, which are 1, 4, 3, and 7. We've used them since I was a kid and it means I love you bunches. We were able to name it after her. It actually went into space seven months later, the week of her birthday.
I like sentimental gifts because they're so much more memorable. Material things are nice—who doesn't love a new pair of shoes?—but when you can touch someone's heart that's something that lasts forever. It doesn't wear out.
Spencer's: What's the funniest or craziest thing you've ever received for Christmas?
Ashley: I don't get a lot of gifts. Most of what I get is from family, so they're really sentimental. My mom last year got me my wedding photo of me and her and she had my grandmother Photoshopped into it. That was a tearjerker. That was really sweet.
Funny? No one's ever gifted me a Christmas sweater! I wouldn't mind a Christmas sweater. It would make me laugh. It would make it memorable.
Spencer's: Have you ever pranked anyone for Christmas?
Ashley: Last year for Christmas, my husband and I got our moms Cher tickets. We got a huge box and bought a bunch of boxes to go inside of it. It was taped underneath the big box the whole time. They went through all the boxes and it was completely empty and they were like, "Where is it?" I said, "If you had turned it over you would have had it this whole time."
It's just a piece of paper! Everyone always wants the big box. No one wants the little box even though that's usually the best gift.
Spencer's: How did they react to the Cher tickets?
Ashley: My mom is a ridiculous, psychotic Cher fan. It's a lot. It's very dramatic. So she got all red, was hysterically crying, she was shaking, she couldn't catch her breath, she started hyperventilating. I was like, "Are you going to be all right?" She was very excited and when my mother-in-law found out she was going with my mom, that was nice because they got to have a moms night out. Sometimes moms need that.
Spencer's: What kinds of traditions do you want to have as a couple?
Travis: We have two families in two separate states. We want to create something every year where everyone comes to our house but it's kind of tough.
Ashley: There are so many different families. We're going to get them ugly Christmas sweaters; it'll bring some joy to the blended mess that we have.
I count Thanksgiving as part of the holiday season. We spend that in Boston with my family. At Christmastime, I think it's special to wake up in your own home and open presents under the Christmas tree and run down the stairs and you hear little puppy steps behind you. It's that Christmas feeling of having it in your home. I fly my mom out and then we spend some of the holiday with his family.
Spencer's: What is your Christmas day schedule?
Ashley: Since I was little, my Mom and I have always opened one gift on Christmas Eve, and then at midnight we would open up all the gifts together. My mom had Christmas parties and one year she forgot to put out gifts from Santa Clau and ended up shoving my gifts in the tree.
Sometimes she didn't have time to wrap gifts so she would shove them in a plastic bag. Now it's a fun tradition as I'm older. She always gives me one gift in a plastic bag and then she shoves a couple of gifts in the tree for me. That's what she did last year. I love that. It's so special. I like the effortlessness of it. It's funny. It's something I remember doing as a kid. My mom went nuts when I was a kid. I had all the toys out into the next room. But then as I got older and didn't believe in Santa Claus anymore, she shoved everything under the tree.
Ashley: Eating and napping are the two main things on our Christmas schedule.
Travis: I have little sisters so they like to get up relatively early. We go see them and my niece. I've just been told that my little sister doesn't believe in Santa anymore.
Ashley: I remember when my mom had these Christmas parties. They would say, "Oh my god, Ashley, do you hear that? You just missed him." It was so believable to gullible nine-year-old me. That's the best part of Christmas. Then again, now that I'm older, I appreciate what my mom did so much more.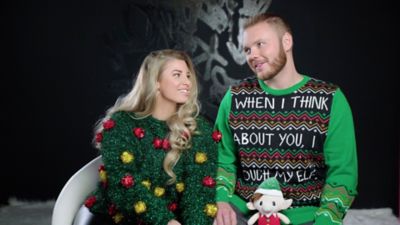 Travis: I figured it out because I questioned the physics of a reindeer flying to my dad and he couldn't figure out what to say to me.
Ashley: My house didn't have a chimney or fireplace. I asked my mom and she said Santa has a special key that only he has and he can only use it on Christmas. It was cute. It's always fun when you hear other Christmas traditions they had and how they kept believing in Santa Claus.
Travis: She just recently learned that reindeer exist.
Ashley: I thought they were deer. He told me, and I thought he was just messing with me. I'm very smart, I promise. I keep it interesting. At least you're not bored.
Spencer's: What are your favorite Christmas foods?
Travis: A little of everything and a second Christmas dinner right afterward and all the leftovers after that. It's my favorite time of year. The turkey, the ham, all of it.
Ashley: I don't understand how he fits it all in. I like the desserts. I'm a sweet tooth girl. My nana used to make 15 different cheesecakes. I would eat it all and I would get sick every single year. It was so good it was worth it.
Spencer's: How do you present the gifts you give each other?
Travis: I wrap her gifts perfectly with precision. She wraps my gifts like a child.
Ashley: I was never taught how to wrap presents.
Travis: I try to teach her.
Ashley: He's a perfectionist; he went to bow wrapping school. I put them where it goes. The lines don't have to match, as long as it looks good on the surface. Then you turn it around and there are 45 pieces of tape.
Travis: There's also a blank spot too usually.
Ashley: Yeah, but you don't see it and it doesn't really matter. What matters is what's on the inside. Have I taught you nothing?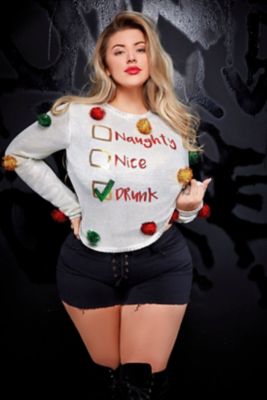 Travis: Then why wrap them at all?
Ashley: Because it's not fun to come downstairs and just see your gifts. And they match the house.
Travis: I give her rose gold packages and the tape doesn't stick to them so I staple them shut. I get my tools out.
Ashley: His gift wrapping is gorgeous. I basically throw most of mine in a bag at this point. Then in the bag I also tape all the tissue paper down. You can't be good at everything.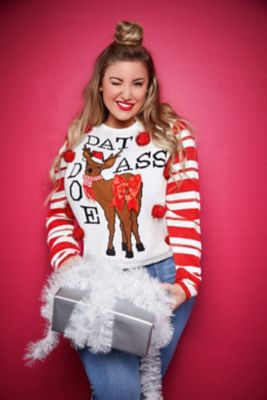 Look as cute as Ashley and Travis in one of Spencer's ugly Christmas sweaters, part of our wide selection of outrageous Christmas merch!