With Valentine's Day around the corner, you may already be planning your celebration of the most romantic day of the year. Here are some suggestions for alternative ways to celebrate Valentine's Day if you're looking for something different than the proverbial dinner and a movie. Whether you're on a budget, staying in, or simply want to mix things up on the romance front this year, read on for ways to celebrate with your partner(s) and still revel in being with your valentine.
Give Each Other Massages
You may love your partner, but aside from making out and getting it on, when was the last time you truly paused and simply enjoyed the feel of their hands on you? If you miss all that skin-on-skin contact, with no agenda or rush, block out your Valentine's Day evening (or morning or afternoon!) for some private time where you can truly focus on each other.
Grab some massage oil and a towel, set some mood lighting, and prepare to make them moan. If you already know their sensitive spots, you're all set. Or you can ask them where they most want to be massaged. Whether you offer them a traditional backrub, a sensual foot rub, knead their head and shoulders or head into more intimate areas, you'll ensure that this is a Valentine's Day to remember.
If you're the one planning to give your partner a massage, don't make it a quid pro quo. Maybe you'll get one in return, maybe you won't, but the point of a couple's massage is to build intimacy and connection. They may be so comfortable and relaxed they drift off to sleep, or they may become so turned on you skip directly to sexy time. Either way, you'll both be thankful. If they doze off, you can always pick up where you left off in the morning.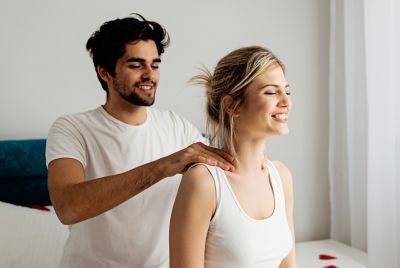 Take a Sensual Bath Together
Forget your harried, early-morning shower. If you have a bathtub that's big enough, why not pour some scented bubble bath, crank up the hot water, cue up your sexiest playlist and get wet and wild? Bring a bowl of some small snacks like almonds or chocolates with you and place them nearby to help fuel you. Relax, suds up, and simply indulge in each other. You can even use a bath bomb with a vibrator if you want to get truly racy.
Cook a Sensual Meal Together
One or both of you can select a delicious meal that appeals to each of your palates, whether an old favorite or a new dish. Look online or in a cookbook for a recipe that's sure to delight your senses. It can be a relatively simple dish or a more involved one. The most important part is you'll be cooking—and eating—together. Set the table with your most festive kitchenware. Maybe buy flowers for the occasion. Dress to the nines. Sit next to each other rather than across from each other. Take turns serving each other and watch the look on your partner's face as they savor a bite of this special, romantic meal. Save room for dessert—which could be a slice of warm chocolate cake or a delicious lick of your partner's body.
Eat with Your Fingers, Blindfolded
Another way to take your Valentine's Day meal to the next level is to use your hands but not your eyes. Prepare or buy a meal that you can eat with your fingers, then arrange it either on a table or the floor where it's easily accessible. You can share a communal plate or each have your own. Either way, one or both of you can use a blindfold on the other. Feed your romantic treat by hand. You'll quickly discover how intimate eating can be when you serve your partner in this way, placing the food directly against their tongue. You'll hear every sound of satisfaction when you're so close to them. With one of your senses no longer at your disposal, all the others will come into sharp relief. This is a way to experience some light bondage via the blindfold together and see if you want to try more.
Watch or Read Sexy Stories
Cue up a racy movie or read or listen to some erotica in order to truly heat things up. If you enjoy wearing sexy lingerie, put on a racy teddy or chemise or your preferred intimate attire to amp up the tension. The great thing about viewing, listening to, or reading sexy material together is that you can press pause or stop reading and act out what you've just seen or heard, or use it as a starting point to play out your sexual fantasies. This is an exciting way to kick start your Valentine's Day foreplay!
Bring a New Sex Toy into the Bedroom
Valentine's Day is the perfect time to introduce sex toys into your bedroom play. Whether you already have a bedside drawer stashed with vibrators, dildos, butt plugs or bondage gear, or you've had your eye on a special toy, like a strap-on dildo, but haven't gotten around to testing the waters, February 14 presents a perfect opportunity. You can buy a sex toy as a gift for your partner, or make browsing Spencer's intimate assortment of couples sex toys together a way of planning ahead.
However you celebrate Valentine's Day, we hope you have a hot time and that it's just the start of elevating your intimacy!