Ugly Christmas sweater season is quickly approaching, and it's time for us to narrow down our assortment to the top 10 funniest sweaters of 2018. We love our ugly Christmas sweaters so much, and we spend extra time hand-picking our favorite designs for all of our die-hard Christmas fans. We've got the most hilarious sweaters for your next ugly Christmas party, and we can't wait to see which ones you pick. Check out our top 10 below, and get ready to indulge in some old fashioned belly laughing! Want more? Visit our Amazon store!  And, don't forget to check out our top 10 ugly Christmas sweaters of 2019 here!  

First, we present to you one of our classics. This threesome reindeer ugly Christmas sweater will show everyone where your mind is at all times. Two's company, but three's a party! F the shit out of the Christmas party when you show up wearing this humping reindeer sweater, and you'll be sure to have a "bangin'" time!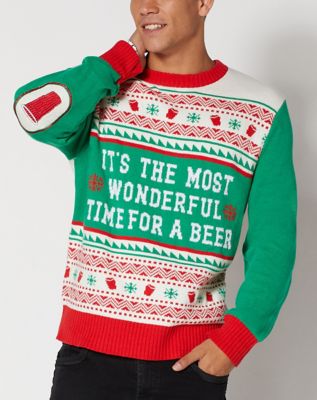 It's Christmas time, and we all know what that means. It's time to relax and enjoy your favorite ice cold brew as you get into the holiday cheer. By wearing this ugly Christmas sweater, you'll let everyone know that you came to party. No need to tell the bartender what your drinking; your sweater will do the talking!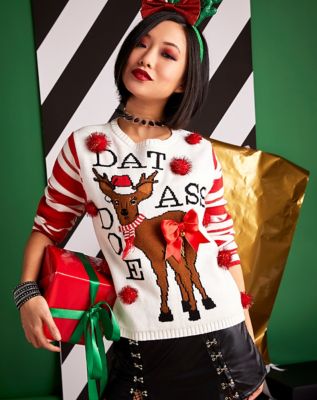 No need to censor your best assets. This hilarious ugly Christmas sweater will place all eyes on you. Whether you want the attention or not, this cute little number is sure to have you standing out in every crowd. Rock it at every Christmas gathering this year and everyone will notice that you've been doing squats at the gym!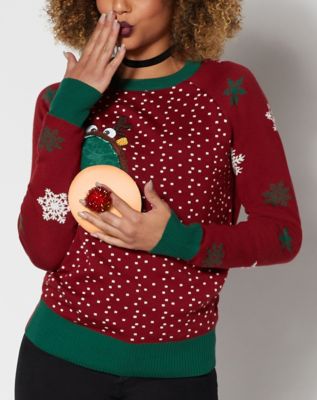 How bold are you willing to be in order to take the cake for "Funniest Christmas Sweater" at your next holiday party? This peek-a-boob design will lay everything on the line.  This flirty sweater comes with a removable cup, so you can choose to cover up or show off your Christmas goodies.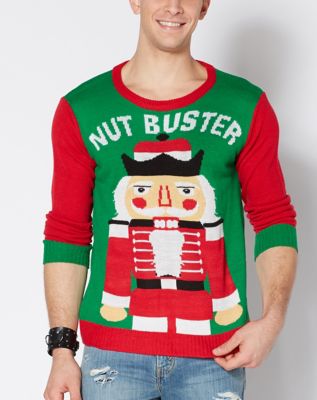 If you're the jokester of your friend group, everyone will get a real kick out of this funny ugly Christmas sweater. Why crack nuts when you can bust them instead? We'll let your imagination run wild with that one. This ugly Christmas sweater is open-ended and can be taken in many different ways, so wearing it to Grandma's on Christmas Eve might not be the best idea. Keep this one for your friends.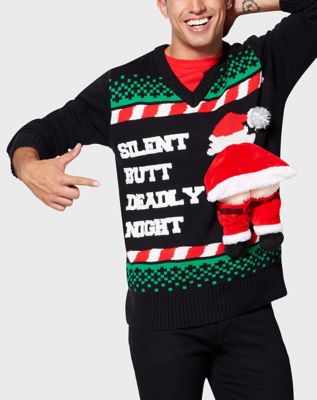 How can you not love our silent but deadly night Christmas sweater? Honestly, it doesn't matter how old you are…farts are still funny. Everyone does it, even magical Saint Nick. Take it easy on the eggnog. We heard that stuff gives you endless gas, and you don't want to be known as the guy who farted during the gift exchange…or do you?

We're not sure if flashing the big guy will get you on the naughty list or the nice list, but either way, it'll get Santa excited! This hilarious ugly Christmas sweater is perfect for all the funny women out there! You'll have to decide if being a little risque is worth teetering the line between naughty and nice this holiday season.
We're in the top three! We repeat: We are about to announce our top three favorite funny ugly Christmas sweaters.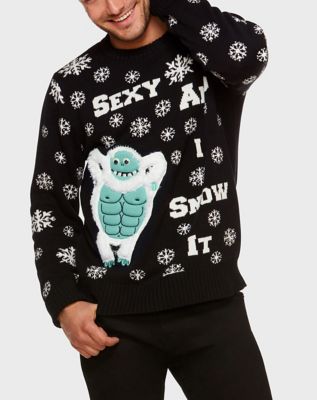 Is there anything better than a pun? If you're sexy and you snow it, we've got the perfect Christmas sweater for you. There's nothing wrong with being confident, so show off what you're working with! Want to match with your partner? We have sexy and I snow it ugly Christmas sweaters for men and women!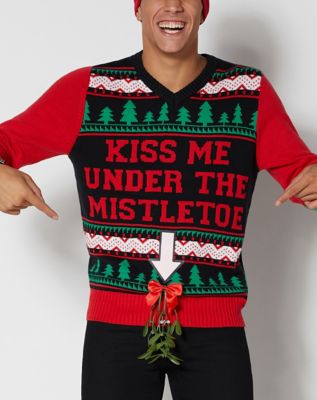 Wow, would you look at that! Seems like that mistletoe was conveniently placed for some holiday hanky-panky. This hilarious Christmas sweater could very well get you a kiss, but we can't make any promises. If you're looking for a little extra gift during the holiday season, this sweater is the perfect way to try!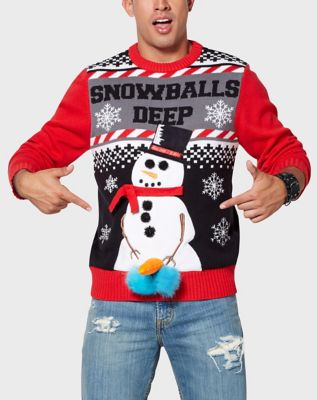 Get balls deep in holiday cheer! Everyone will be able to see that you've gone balls deep to find the perfect sweater this year. With pom-pom details, and a 3D carrot, this ugly Christmas sweater is detailed and designed for you to get loads and loads of belly laughs. Even if Santa sees you wearing it, the coal you receive for Christmas will be worth all of the compliments you get!
Now that you have our full top 10 list of our funniest ugly Christmas sweaters, we want to know what you think. Send us which ugly Christmas sweater is your favorite and your pictures could be used in a future post. Shop all of our ugly Christmas apparel here and get ready for a cheerful holiday season! From everyone here at Spencer's, we wish you a Merry Christmas!