You know Spencer's as THE store to get all your favorite body jewelry, from nose rings to tongue rings and beyond. Now, our selection is even more exciting because we've just added new body sensitive jewelry options made entirely of ASTM-F136 grade titanium.
If you have a nickel allergy or sensitivity, a common allergy that can affect 10 to 20 percent of the population, according to the CDC, this extensive body jewelry selection means you don't have to worry about the possibility of irritation. Instead, you can explore this wide range of jewelry for every type of piercing, from belly rings to lip, tongue, cartilage, eyebrow, nipple or nose rings, and trust that it's compatible with your sensitive skin.
Additionally, if you get frequent MRIs, and don't want the hassle of having to take off your jewelry each time, this material is also up your alley, since it won't be detected due to its components.
What is ASTM-F136 grade titanium?
ASTM-F136 grade titanium body jewelry is of the highest quality, and has fewer impurities than other types of titanium. F-136 refers to the specific grade of titanium, one that was designed for medical implants because of its high standards for biocompatibility (meaning its compatibility with living tissue).
ASTM International is a nonprofit organization that sets global standards for public health and safety; ASTM stands for American Society for Testing and Materials, their previous name.
Unique features
Hypoallergenic
Titanium rarely induces an allergic reaction in its wearers. Because it is highly resistant to corrosion, it is less likely than other materials to react with body fluids.
Nickel-Free
This jewelry is entirely nickel-free, including its decorative features, so if you're body sensitive or have a nickel allergy, you can wear it safely.
Nonmagnetic
Titanium jewelry is nonmagnetic, which means it is safe for MRI scans, X-rays, CT scans, PET scans.
Internally threaded
All threaded pieces in Spencer's selection of body sensitive ASTM-F136 titanium jewelry feature internal threading, meaning the part of the piercing going through your skin is smooth and less likely to cause irritation than externally threaded jewelry.
Swarovski gems and semi-precious stones
The adornments on these body jewelry options include Swarovski™ gems and semi-precious stones for a stylish and colorful look.
Because of its specialized material and precise manufacturing, this body jewelry has higher price points than non-ASTM-F136 grade titanium jewelry.
Caring for titanium body jewelry
Cleaning your titanium body jewelry is easy: just use warm antibacterial soap and water. Dry with a clean paper towel if needed. Do not use any alcohol or harsh cleaners. Following these instructions will help preserve your jewelry. Since titanium is highly resistant to corrosion, with proper care these pieces are built to last. But if anything should happen, we have a lifetime warranty!
Types of body sensitive jewelry
Here are some of the many eye-catching body sensitive jewelry styles Spencer's carries: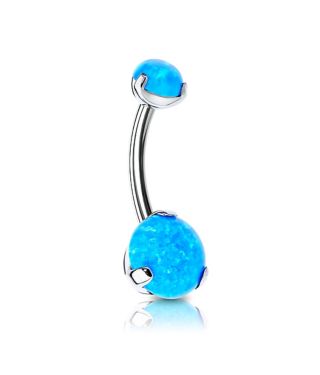 Body sensitive cartilage rings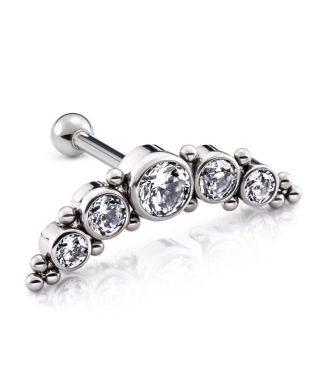 Body sensitive lip & eyebrow rings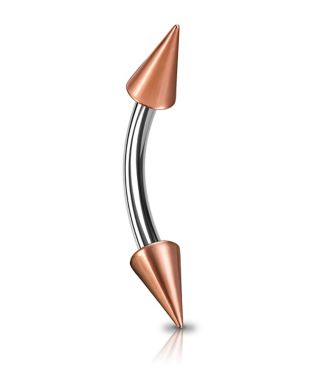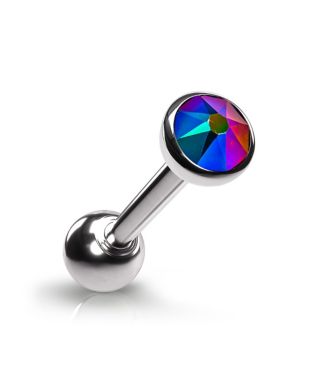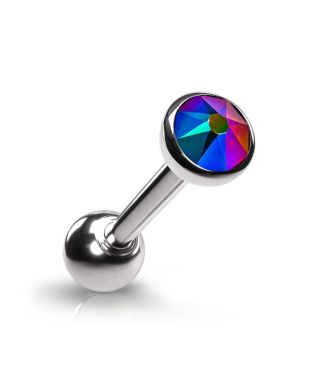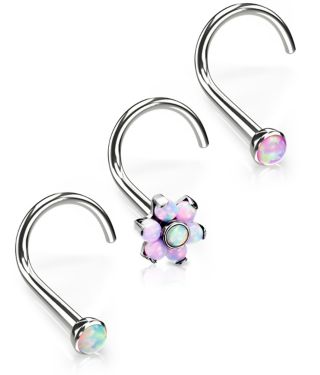 Have questions about whether our ASTM-F136 grade titanium body jewelry is right for you? Contact Spencer's Guest Services department at 800-762-0419.


Discover dozens of styles of ASTM-F136 grade titanium body jewelry right here at Spencer's, available in stores and online.
Related blog posts: