Are you curious about incorporating bondage into your sex life but not sure where to start? Keep reading, because there's so much sexy fun to be had when it comes to this kinky bedroom activity. Our beginner's bondage guide fills you in on everything you need to know, including how to incorporate sex toys and bondage and how to practice bondage safely.
First, let's explore what bondage means. While the word "bondage" may conjure up elaborate images of people in chains, the truth is, what bondage means can vary immensely. If you've held a lover down by the wrists in the heat of the moment, guess what? You just engaged in light bondage. Bondage and BDSM are wide categories that encompass a range of intimate activities. You can add bondage to a range of sex positions, such as doggy style or the missionary position. You can explore bondage at your own pace, moving on to a new aspect of it when you feel ready.
Why People Like Bondage
One reason some people love being bound is because it takes away a certain amount of control, allowing them to surrender to the moment. When a person is cuffed to the bed or has their wrists shackled in place behind them, they can tug and strain and pull. They'll enjoy the excitement of straining against their bonds, while their partner retains control. They won't be able to escape unless their partner agrees to unlock or untie them.  This can be incredibly arousing for bondage enthusiasts. The bound person may even want to make noise, cry out, or engage in dirty talk (unless they're gagged). Simply offering up their wrists to be placed inside a set of handcuffs can be the start of some very hot foreplay.
For the person doing the binding, it can be a visual thrill to see their partner handcuffed and/or blindfolded—ready to submit to a sensual command. This can be the catalyst to talk dirty to one another and further up the ante on your roleplaying. It's also an opportunity to show that even though you're the dominant partner, you're also showing care and respect by checking in as you go or peppering their body with kisses in between commands.
How to Explore Bondage Safely
Before you start your bondage play, one very important thing is to establish a safeword (sometimes spelled safe word) with your partner, meaning a word either of you can say to stop or pause what you're doing. Relationship and intimacy coach Miss Couple, author of The Ultimate Guide to Bondage: Creative Intimacy Through the Art of Restraint, said in an interview that she recommends the stoplight system, with "green" standing for good, "yellow" meaning slow down and check-in, and "red" signaling a hard stop. If you are uncertain or know you need a break, say "yellow" or "red" and the bondage activity will stop. You can then either end that bondage session, adapt what you're doing, or pick up later when you're feeling more comfortable with it. "If you're using bondage devices like gags that restrict speech, you will need a physical safeword cue, such as hand squeezing, or dropping a handkerchief to ensure that you don't unintentionally cross any boundaries," said Miss Couple.
Trying out bondage can be part of a dominant/submissive relationship, letting you build intimacy while you get kinky. You don't need a lot of gear to get started; try ordering your partner to sit on their knees or get on all fours, and see how quickly they obey. Take cues from what they say and do to help build up your dominant/submissive roleplay. Some dominants like to be called "Sir" or "Ma'am" to enhance the mood. This can be the start of your bondage explorations. Or order them to close their eyes. This paves the way to deeper exploration, like slipping a blindfold over their head once everyone is more comfortable with this power dynamic, or for the more advanced BDSM players, perhaps adding a ball gag so the other person can't speak. Anyone can enjoy being restrained and waiting to see what their lover will do next.
Now it's time to experiment. Maybe you want to order your partner to hold a certain position, such as wrists behind them or in the air. If you want to prepare someone for wearing a blindfold, you can have them close their eyes, and wait for you to touch them or whisper something dirty into their ear. If you're the one restraining your partner, pay attention to what they're saying and doing so you can respond properly. Never leave the room when your partner is restrained; you need to be nearby in case they need assistance.
Both the dominant partner and submissive partner can take part in bondage naked, or while wearing clothes or intimate attire. To get in the mood, you may want to start with a piece of sexy lingerie that comes with cuffs, like our mesh bodysuit with wrist restraints.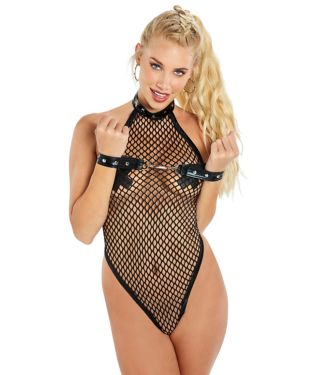 Once your partner is strapped in, grab them for a lusty kiss, or give them a light tickle or slap.  From there, you're free to experiment. If your partner is usually shy about showing you how they like to be touched, use the fact that they are bound to amp up the pleasure. Offer to use their favorite sex toy and see how exciting it is when they rely on you for their pleasure. Observe how your partner responds, pay close attention, and then act accordingly.
Remember, most cuffs and restraints can be used on anyone.
How to Use a Blindfold and Other Bondage Sex Toys
Another bondage sex toy option you can add to the mix is a blindfold to take away the sense of sight. You'll be amazed at how this small item can make a huge difference, setting the mood and giving one person the power to surprise and tease the other.
Bondage can be part of foreplay or incorporated into your sex life. Ever had intercourse with one person's wrists tied together? Or while they wore nipple clamps? There are endless ways you can combine bondage and sex. If you're intrigued, take the first step and introduce some light bondage into your relationship.
Want to delve even deeper? A BDSM Kit is a wonderful place to start to take your bondage exploration even further. A popular option is the Intro to S&M Kit, which has furry handcuffs, which will feel good on the wrists, a blindfold, and a flogger, all in sleek black. If you're the dominant this time around, try trailing the flogger along your lover's skin and seeing how they react. If they like it, you can whip it gently against a fleshy part of the body such as the buttocks or breasts.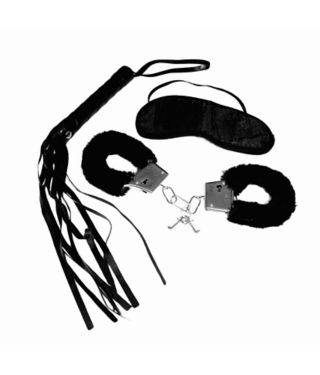 You can combine the thrill of restraint with using other sex toys. A bound person may be more attuned to the ticklish sensation of a feather duster or the intense pressure of a pair of nipple clamps.
There are plenty of bondage toys and kits that can help you keep you going in your bondage explorations once you're ready. You can use household items like scarves; as long as you make sure you're leaving enough room for comfort and safety (see below for more detail). Remember, you don't have to be in a hurry when it comes to bondage. Take your time and discover which aspects of it you prefer. Whether you like to tease and tickle or deliver a bit of sweet pain, bondage can set you on your next exciting erotic adventure together.
To learn even more, check out our bondage frequently asked questions below.
What is bondage?
According to Kinkly, "Bondage is a form of sex play in which one person restraints another for sexual pleasure." Any act that involves this type of restraint counts as bondage, whether it's done to the wrists, ankles, or other body parts, such as using bondage tape over someone's mouth. There are different types of bondage, such as rope bondage, sensual bondage, Kinkly says involves adding pleasurable sensations along with restraint, Japanese bondage, and more.
What is rope bondage?
Rope bondage is exactly what it sounds like: bondage using rope. However, there are types of rope made specifically for bondage that will restrain you but also be gentler on your skin than other types of rope.
Why do people love bondage?
There are many reasons people enjoy bondage. According to Miss Couple, "Most people enjoy bondage because of the vulnerability and bonding opportunity it creates between them and their partner. Trusting someone with your body in a new way can be exhilarating – which is the perfect recipe for pleasure."
Some people especially like the idea of bondage because the act takes away control, allowing them to surrender. There's something sexy about losing yourself with a person that you trust. Some people like to be handcuffed or have their wrists restrained because it may intensify their pleasure. The illusion of not being able to escape can make them more aroused. On the opposite side, the person in control gets a rush of dominance along with the image of their partner restrained, waiting for their next action.
What is BDSM?
BDSM is an acronym that stands for Bondage, Dominance, Submission, Sadism, and Masochism. Dominance involves giving orders within a kinky context, while submission involves taking orders within a kinky context. According to Kinkly, sadism is "the experience of taking pleasure in inflicting pain, humiliation, degradation, cruelty, or watching others inflict these behaviors on someone else" and masochism is "the tendency to find pain and discomfort sexually stimulating." There are many ways to explore BDSM for beginners, whether you want to start with bondage, roleplaying, dirty talk, or any other aspect of it. You can combine these various activities in any way that suits you and your relationship(s).
What is the difference between dominance and submission?
Dominance and submission is part of BDSM in which one person, the dominant, is in charge or in control of the action, and their partner, the submissive, takes orders and surrenders control. How the power dynamics play out is up to you. A dominant might be in charge only within certain circumstances, such as in the bedroom, in the playroom, or during a kinky scene, or might take control during everyday life. Some couples even engage in their dominant and submissive roles 24/7.
What does the dominant do?
Within bondage, a dominant, who may also be called a top, takes over the sexual experience, restraining their partner and then deciding what will happen next. They might also add dirty talk to their bondage play, such as playing up the fact that the submissive handcuffed or blindfolded. This dirty talk can enhance the sensations for both partners and amplify your sexual pleasure.
 What does the submissive do?
The submissive, who may also be called a bottom, follows the dominant's orders. When it comes to bondage play, that can mean wearing certain clothing items, like a collar, or being restrained in certain ways. They may be ordered to be quiet, or have a ball gag used on them to ensure they don't make noise. The dominant and submissive jointly decide ahead of time what kinds of rules will shape their BDSM play. The submissive is also an active partner in decision-making.
How do bondage beginners decide what they want to do together?
One way that anyone looking into exploring bondage and/or BDSM can get a sense of what they and their partner or partners might want to try is by filling out a yes/no/maybe list. This list is as simple as it sounds; you look at a list of sexual and kinky activities and each decides whether they are a yes, meaning something you like or would like to try, no, meaning they are a hard limit and you do not want to be involved with them, and maybe, meaning something you might be into doing. This Refinery29 article has details about how you can make a yes/no/maybe list work for you as well as a sample list, with room to fill in some of your own interests. A yes/no/maybe list is perfect for beginners because it gives you a variety of options and the room to think about and discuss whether you're interested in them.
What is a safeword?
A safeword can be any word you and your partner decide on that ensures you stop what you're doing. This allows both people to know that everything happening is totally safe, sane, and consensual. Safewords should be words that are easy to say and remember, and that wouldn't be used in the course of regular conversation.
What's the simplest way to experiment with bondage?
While you may be eager to dive right in, Miss Couple advises you to do appropriate research first. "Make sure that you know the risks and benefits of the activity you're engaging in. Make sure that you negotiate thoroughly what you want and especially do not want to happen to you while you are bound," she said.
After that, Miss Couple recommends bondage tape as "the perfect tool for a bondage newbie" because it's easy to use since there are "no knots or keys and locks necessary." Plus, it's easy to remove quickly so "there is less risk for cutting off blood circulation or causing nerve damage than using rope or cuffs (although this is always a risk when engaging in bondage activities)."
You can also add a blindfold to take away the sense of sight. When you remove the other person's vision, you'll be amazed as to how heightened their other senses become. The fact that they can't see what's coming next amplifies everyone's pleasure and keeps the submissive on edge. If you're new to bondage and are feeling your way in terms of dominating a partner, their wearing a blindfold can help you relax and get fully into your new sexual role.
If you want to take the next step, try restraints. Often simply having some of their mobility removed is enough to put the person being bound into a submissive headspace. They know they can struggle against the bonds, but that they won't be released until the dominant decides to, or they say their safeword.
What's the next step after blindfolds and restraints?
It's all up to you. You and your partner are in total control of your bondage fantasies. You can use furry handcuffs, floggers, bondage tape, and more. Talk with your lover and get an idea of what fun and exciting bondage activities you want to try next. The more you try, the more comfortable you'll feel as you get to know your kinky preferences. You might discover that you love being tickled or whipped, but don't like nipple toys. That's perfectly okay. When it comes to sex and bondage, to each their own!
If you're also looking to explore BDSM for beginners, there are many ways to do so, whether with bondage or separately. For instance, a spanking paddle, designed to be used on the fleshy part of the butt, can be used with the submissive partner or bottom across the dominant's (or top's) lap or could be used while their wrists and/or ankles are bound. Some people find the sensations of a kinky activity like spanking is amplified when they are restrained.
What are other types of bondage sex toys?
Bondage sex toys can include a wide range of implements, from handcuffs or wrist and ankle cuffs, to ball gags, blindfolds and nipple clamps. Any item that's used to aid in restraint can be considered a bondage toy. For beginner bondage basics, you might want to try a bondage kit, with comes with multiple toys that you can use together or individually. Bondage kits give you a feel for what various sensations are like, such as a silky blindfold over your eyes, or a feather tickler being run along your neckline.
Other items, such as massage candles, can be used as part of bondage play, such as by dripping wax that's safe for human skin onto your partner while they're restrained. Some people find this sensation arousing. If you are going to use massage candles as part of your sex life (also known as wax play), always make sure you're doing so safely. According to Glamour, the neck, shoulders, and feet are good areas of the body for wax play; you never want to get wax inside the body. If you're curious about restraining your mouth and playing with this type of bondage, see our guide to how to use a ball gag.
What are safety scissors?
Safety scissors are a special type of scissors to be used in the rare case that you need to cut your partner out of bondage.
Is bondage gender specific?
No way! You and your partner can switch between submissive and dominant whenever you want, no matter your gender. Banish the notion that only women enjoy being bound and dominated; people of all genders do as well. Lesbian, gay, or any type of queer couple can fully indulge in bondage without any expectations regarding gender roles. Often, those who are powerful and in command in their daily lives enjoy submitting to a partner during bondage and other BDSM activities.
How tight should restraints be?
A good general rule for bondage safety, according to Miss Couple, is the bound person "should be able to fit two to three fingers in between the binding material, such as scarves, rope, cuffs, etc., and the skin. There should be enough room that it's not cutting off blood flow or causing nerve damage, but also is not slipping off."
What should you avoid when you're new to bondage?
While bondage involves having at least one part of your body restrained, it can also bring up major feelings. According to Miss Couple, one of the biggest mistakes beginner bondage practitioners make is "not realizing the depth of emotion that can arise from being physically restrained. This isn't simply some naughty activity to spice up your bedroom life (although it can be that). Bondage has the potential to dredge up deep-seated emotions about authority and attachment figures." On the upside, she advised that bondage can give you "a great opportunity for processing," so be prepared for whatever emotions might come up for either of you. "Aftercare, like snuggling and debriefing, after bondage play can help people to come down from the intensity of the experience and have a chance to process their feelings with a loving and supportive partner."

We hope you found our bondage for beginners tips useful as a way to take your sex life to a new level! Is there a bondage question we didn't answer? Debating between metal or furry handcuffs? Curious about whether you should try bondage on your wrists or ankles? Want to know how to use your new ben-wa balls or have any other questions about exploring bondage? Email us at spencersblog@spencergifts.com or visit our Ask Jackie section for sexpert advice from Spencer's. We also have all the bondage gear you could want as you continue to explore.