If you haven't heard about Rap Snacks, you probably live under a rock. Everyone is raving about them and we're going to tell you why. Besides the fact that they're fu*king delicious, they feature your favorite Rap icons. From Cardi B (Okuurrrrr!) to Migos (MAMA!), these bad boys are the best addition to your snack drawer. Let's get it.
Rap Snacks Assortment 1 – 6 Pack
Here's everything that you'll receive when you scoop up assortment one:
Cardi B Jerk BBQ Wavy Potato Chips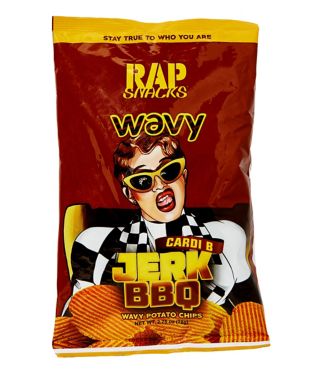 We understand that Cardi B may be "too gangsta to admit she's in love," but we'll be the first to admit that we fell hard and fast for these Jerk BBQ Potato Chips. The way the seasoning sinks into every single wave really treats your taste buds to a dope ass time.
Lil' Boosie Louisiana Heat Wavy Potato Chips
If you're going through some thangs, there's nothing these tasty chips can't fix. Lil' Boosie loves representing his hometown, and that's why this snack delivers nothin' but hot, hot Louisiana heat! No need to wipe down after this, just lick your fingers clean!
Migos Bar-B-Quin' With My Honey and Ranch Wavy Potato Chips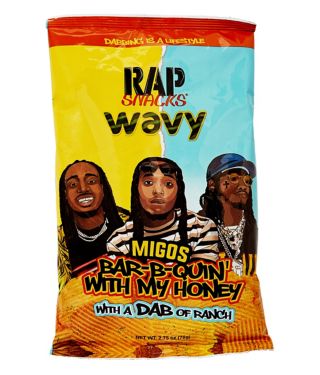 Ain't nothing wrong with a #Dab of ranch. That's right! Not only did Migos come up with one of the most influential dance moves of our time, they also represent one of the best potato chip flavors ever. These things are drippin' with flavor.
Cardi B Honey Drip Butter Popcorn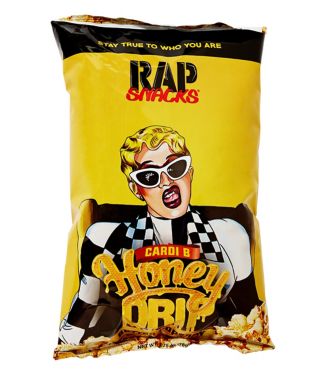 Another Cardi flavor? I like it like that. What more is there to say about this honey drip snack? It's…. POPPIN'!
Lil Yachty's Hot Cheese Fries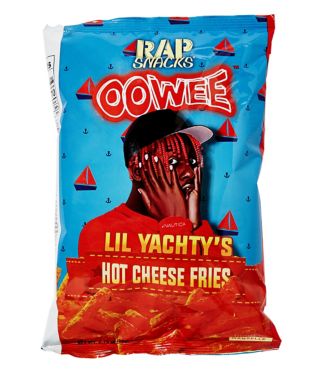 Get dripped (with sweat) because Lil Yachty's hot cheese fries are smothered in mild spices that will have your taste buds instantly wanting more.
Migos White Cheddar With a Dab of Ranch Cheese Puffs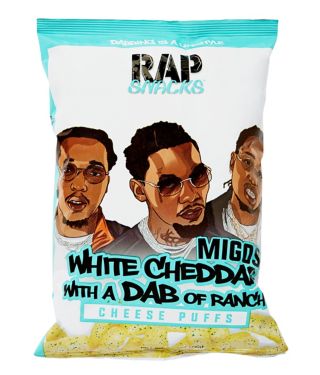 OBIVIOUSLY one dab wasn't enough for Migos, so we got ANUTHA ONE. Am I the only person who wonders what these would taste like in stir fry?
I know you're probably drooling over how delicious these rap snacks sound, but we're about to blow your mind even more. Yep, there's another assortment with DIFFERENT flavors. Just when ya thought the drip couldn't get any better… It did.
Rap Snacks Assortment 2 – 6 Pack
Check out all the good stuff you'll get in assortment two:
Cardi B Cheddar BBQ Potato Chips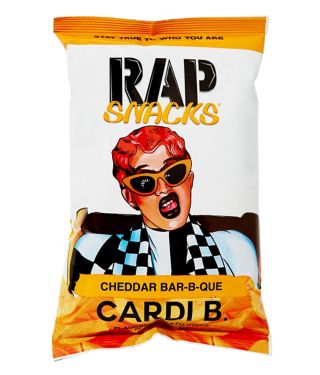 Cardi B is clearly livin' her best life and these Cheddar BBQ potato chips have the sauce, boyz! No doubt you'll be cheesin' while you munch on these.
Migos Sour Cream with A Dab of Ranch Potato Chips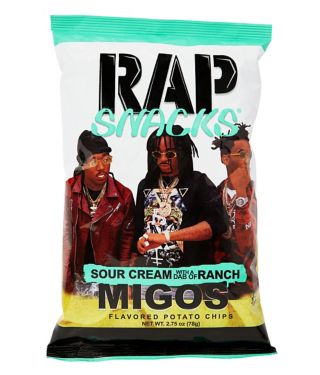 Another DAB! Migos REALLY likes ranch, but honestly, who doesn't? Everyone loves a good sour cream and onion chip, but Migos obviously had to put their own little spin on this masterpiece.
Romeo Bar-B-Quin' with my Honey Potato Chips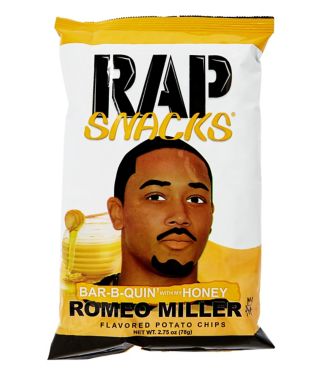 Ain't nothin' lil' about the flavor of these chips. This crunchy BBQ honey chip is sure to make you dance.
Fetty Wap Honey Jalapeno Chips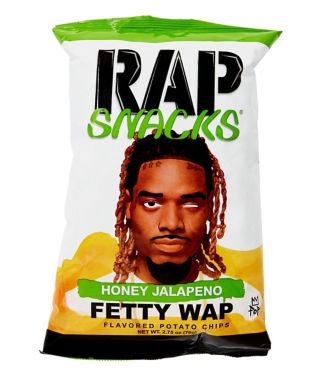 Fetty Wap SERIOUSLY has an eye for pickin' out the best snacks! Crank your music all the way up and make sure you yell "1738" with every crunch. It'll make the experience more authentic.
Migos White Cheddar with a Dab of Ranch Popcorn
White Cheddar and Ranch is the food equivalent to bad and boujee. I see you, Migos.
Cardi B Habanero and Hot Cheese Popcorn
If you think Cardi's bars are the hottest thing around, you haven't tasted this Habanero and Hot Cheese popcorn snack. Straight. Up. Fire.
Soooo, are you DYING to get your hands on these Rap Snacks? Yes? Well, what're you waiting for? Scoop up your stash now, let us know what you think by emailing Spencersblog@spencergifts.com, and you may be featured in a future post.