In case you missed it, oversized tees are back in style! While we still love the tube tops and form-fitting baby t shirts made popular by '90s fashion icons, oversized tees are currently hogging the spotlight. This is great news for those who prioritize movement and comfort in their style selections.
If you're currently rocking a baby bump or are hoping to become pregnant soon, you'll appreciate the breathability and ease of an oversized t shirt. Your body is growing to make room for new life, and restrictive clothing should be the least of your concerns!
Vintage Graphic Tees
Vintage t shirts have been worn, washed, and loved to perfection. To give a new cotton graphic tee that lived-in vintage tee appearance, try cutting it, bleaching it, or repeatedly washing and drying it on high heat. Cotton t shirts that have been broken in and distressed feel soft against the skin. This is a bonus for pregnant people who may be feeling especially sensitive to scratchy or stiff t shirt materials.
Crop Top Graphic Tee
Pictures of celebrities showing off their pregnant bellies in crop tops have been all over social media lately. Before you run screaming at the thought of wearing a cropped t shirt while pregnant, hear us out. Size up at least two sizes! If you normally wear a size small in t shirts, grab a size large or extra-large in a cropped t shirt. Pair it with maternity leggings or jeans, and you'll have a high-coverage look that's fresh and current.
This black Bratz crop top t shirt nails the on-trend '90s look without sacrificing comfort. Pair it with a maxi skirt for a casual, bump-friendly look.
Black Graphic Tees
While being fawned over can be fun, sometimes you want a break from the attention that comes with being pregnant. Colorful graphics pop against a black background, momentarily drawing the attention away from your pregnant belly. Wear a black graphic tee with baggy maternity jeans or black leggings to go about your day without having to field a dozen questions about your due date.
Knotted Graphic Tees
Adding a simple knot to a t shirt can make it appear more fitted or cropped. This style is perfect for moments when you want to show off your beautiful belly!
Choose an oversized t shirt, tightly twist about 4 or 5 inches of excess fabric, and tie the fabric in a knot just below your belly. The knot can be anywhere along the hem of your t shirt (at the back, on one side, or front and center, for example). Once it's tied, loosen or tighten the knot as desired. Finally, cuff the sleeves of your t shirt for a balanced look.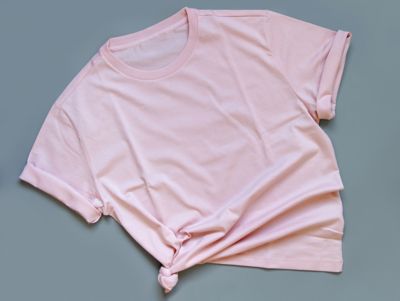 Long Sleeve Graphic Tees
During pregnancy, some people experience dramatic shifts in body temperature. For those chilly moments, a long sleeve t shirt is essential. Long sleeve t shirts provide just enough coverage to keep your arms warm without causing you to become overheated.
This long sleeve graphic t shirt features the legendary Selena's megawatt smile along with red rose graphics! Pair it with black or red leggings and you're ready to go.
Band T Shirts
You don't have to stop rocking out to your favorite tunes just because you're pregnant. In fact, some theories suggest that babies who listen to music in the womb show signs of stronger cognitive development!
Wear your favorite band t shirts like this Sublime graphic tee to bring your baby closer to music. Oversized band tees, vintage music tees, and unisex music tees pair perfectly with cozy leggings.
Statement T Shirts
When you're pregnant, you'll often wish you could carry a sign that says "I'm hungry" or "leave me alone." Statement t shirts say exactly what you want to say!
Speak your mind without actually uttering a word when you wear a graphic statement t shirt like this blunt don't give up t shirt.
Funny T Shirts
It's helpful to maintain a good sense of humor while you're pregnant. Growing a whole person can be scary and astonishing all at the same time. A little laughter can boost your mood and keep you grounded.
This don't touch me peasant t shirt is a win for everyone: your friends get to laugh when they read it, and you get to exist in peace without having your belly touched!
Movie T Shirts
A long day of carrying that baby bump around calls for a relaxing movie night. Put your feet up, choose an uplifting comedy or a juicy romance, and slip into a comfortable movie t shirt.
Movie graphic tees are an excellent reminder to others that you're more than just a fragile pregnant person! You're a complex person with unique interests in movies, music, books, and so much more.
Men's Graphic Tees
Men's graphic tees are a baby bump's best friend. If you have access to a guy's t shirts, you know how soft and roomy they are. If you don't have any men's graphic tees, don't sweat it; you can buy them yourself! Size up in unisex graphic tees and men's graphic tees to get that effortlessly airy fit. Men's white graphic tees are essential to a pregnant person's wardrobe, as they're incredibly soft and easy to style.
Quality, oversized t shirts will remain in your wardrobe long after your pregnancy. Graphic tees, plain white tees, and colored tees of all sizes are both comfortable and timeless. Instead of spending hundreds on maternity clothes that you'll only wear for a few months, stock up on oversized funny t shirts, band t shirts, anime t shirts and more at Spencer's!