With Birds of Prey (And the Fantabulous Emancipation of One Harley Quinn) hitting theaters on February 7th, 2020, we couldn't be more excited to see our girl Harley Quinn back on the big screen! In fact, we're so excited here at Spencer's that we're going to be bringing you a brand new collection of insane Birds of Prey and Harley Quinn merch come early 2020!
Yup, you heard that right, Puddin'! From her classic red and black harlequin outfit to her popular Daddy's Lil Monster T-Shirt, Harley Quinn's had quite the wardrobe transformation over the years. But now, as she finds herself recently single and detached from The Joker, she's getting a complete outfit makeover in Birds of Prey that will truly fit her new, independent, fun-loving, off-the-wall style!
After splitting up with The Joker, Harley Quinn and three other female superheroes—Black Canary, Huntress, and Renee Montoya—come together to save the life of Cassandra Cain from an evil crime lord, Roman Sionis. Birds of Prey: (And the Fantabulous Emancipation of One Harley Quinn) is a story told through Harley's eyes as only she could tell it.
What you should expect, as the movie title states, is a large focus on the emancipation of one Harley Quinn and a glimpse into her new independent life that we've never seen before; a life without The Joker. Gone are the ripped t-shirts and fun and sparkly sequin shorts that she donned in the previous film. In comes a set of new, empowering outfits for the character that truly speaks to who Harley Quinn is.
That's not to say that any of Harley's new outfits are any more or less flamboyant than her predecessors. But now it's much clearer that Harley dons the outfits she does because of her personality and that she enjoys wearing them.
Now in Birds of Prey, we finally get to see what Harley's like when she's on her own and spreading her wings, literally and figuratively. Harley Quinn's fun-loving and chaotic personality is sure to still shine through, but in a way that's much more empowering. Plus, she now has a badass squad of women by her side to help wreak havoc on the criminals of Gotham City.
If you're anywhere near as excited as we are to see this new and empowered Harley Quinn hit the big screen, then you won't believe all the incredible officially licensed Birds of Prey merch we have in store for you! Our upcoming collection of Birds of Prey merchandise includes everything you need to show your love for the film and embody the spirit of Harley Quinn.
Check out the official final trailer along with our entire collection of Birds of Prey merchandise below for all the best costume looks, apparel, accessories, and more so you can be totally decked out for your next convention or Birds of Prey viewing party!
Birds of Prey Apparel
Our officially licensed Birds of Prey apparel is directly inspired by some of our favorite looks from the movie, from Harley's vibrant Two-Piece Bodysuit to her signature Pinstripe Denim Shorts. Our Birds of Prey apparel features plenty of options when it comes to showing your excitement for this popular movie franchise. Looking to cosplay as Harley Quinn? Check out our officially licensed  Harley Quinn Confetti Jacket. Not really into dressing up? Then you can easily flaunt your fandom for the film by getting your hands on some of our officially licensed Birds of Prey T-Shirts like the Box Art Harley Quinn T-Shirt.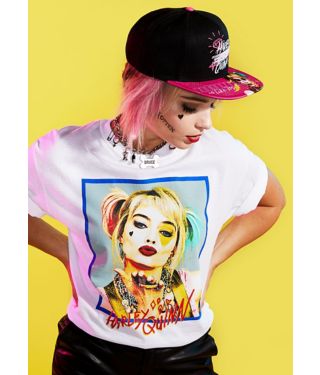 Birds of Prey Drinkware
Fighting baddies all day can get pretty exhausting, especially in the crime-ridden Gotham City. Make sure you're well-hydrated and stay in the fight when you get your hands on some of our officially licensed Birds of Prey Drinkware. Start your morning off with a daily dose of mayhem with this bright and colorful Harley Quinn Coffee Mug. If you're not in the mood for caffeine, then decide to let loose and take some shots with this officially licensed Birds of Prey Shot Glass. Our Birds of Prey drinkware works as a great gift to any fans of Harley Quinn or the DC universe in general.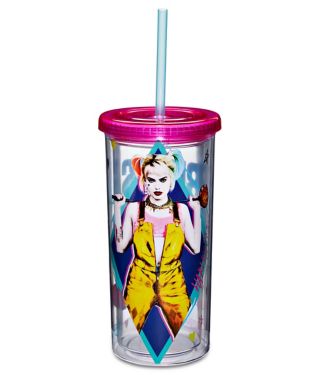 Birds of Prey Accessories
"Sometimes the only way to stay sane is to go a little crazy." Well, you'll definitely go a little crazy when you get a peek at all of our amazing Birds of Prey accessories! Our collection of accessories has everything you need to add some finishing touches to any of your Birds of Prey looks. Try completing your Harley Quinn cosplay with the officially licensed Harley Quinn Skin Tights.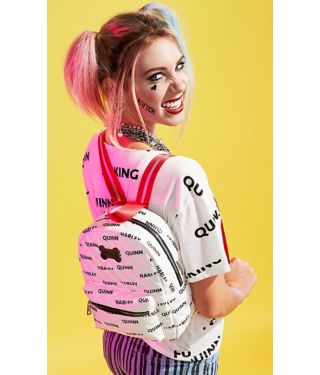 Accessorize your look by adding in the Harley Quinn Mini Backpack or one of our Birds of Prey Wallets. No matter how you choose to accessorize, you'll look great in our officially licensed Birds of Prey merchandise!
Birds of Prey Jewelry
After plenty of years committing crimes alongside The Joker, it's no surprise that Harley's racked up her fair share of jewelry along the way. Get your hands on some of the officially licensed bling from the film like this Harley Quinn Bruce Choker Necklace or Harley Quinn Layered Necklace! Whether you're fighting crime in Gotham City or trying to escape Arkham Asylum, our collection of Birds of Prey jewelry will be sure to have you shining bright wherever you go!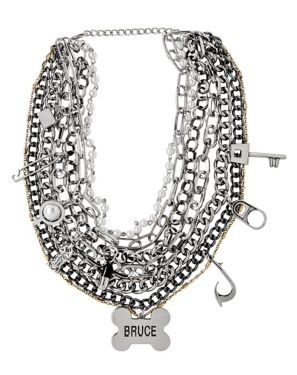 Birds of Prey Hats
Top off your Birds of Prey look with one of the officially licensed Birds of Prey Hats from our amazing collection. Be careful, because this Caution Tape Snapback Hat is bound to make you stand out in a crowd! Our Harley Quinn Dad Hat is perfect for any fans looking to cover up a bad hair day or for wearing outside, and will look great alongside the rest of your officially licensed merch.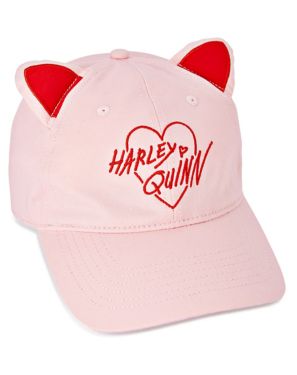 Birds of Prey Socks
Show off your Birds of Prey fandom from head to toe when you rock our Birds of Prey Socks. Complete your Harley Quinn outfit with these Harley Quinn Crew Socks or keep it simple and just show your fandom by rocking out with fun Harley Quinn Knee High Socks. Whichever pair you decide to go with, there's no doubt your feet will stay nice and warm throughout the movie (because you know the theater will be cold af)!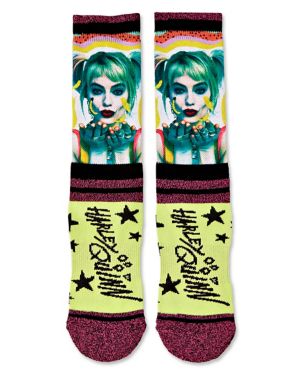 Costume Looks and More
Now, if you're a die-hard Harley Quinn fan and are looking to go all out with your Birds of Prey fandom and put together an awesome cosplay look, then you've come to the right place! Here is one of our favorite officially licensed costume looks inspired by the brand new movie. To check out our officially licensed Birds of Prey collection in its entirety, go to Spencersonline.com for more of the best Harley Quinn and Birds of Prey merchandise and be sure to check out the official final trailer for Birds of Prey below!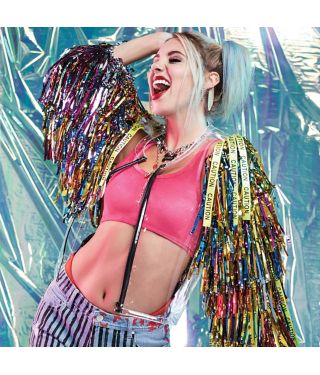 Harley Quinn Two-Piece Bodysuit
Harley Quinn Pinstripe Denim Shorts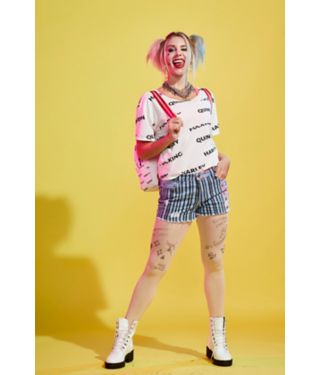 Harley Quinn Two-Piece Bodysuit
Harley Quinn All Over Print T-Shirt
Harley Quinn Pinstripe Denim Shorts