Congratulations: You just got married, and now it's time for honeymoon sex! Once you've settled on where you'll be going, whether it's a romantic city like Paris or a relaxing beach, your mind is probably turning to what you'll be doing…in bed, that is. No matter how long you and your partner have been together, this is a chance for you to reconnect, knowing you'll be spending the rest of your lives getting to know each other—and getting it on!
Your honeymoon is your chance to truly go wild behind closed doors and make love in ways you never have before. Whether you're indulging in a long weekend in a nearby hotel or a week or more in a romantic city like Paris, you'll surely be spending plenty of time focusing on each other in the most intimate of ways. Spencer's has everything you need to make your special, sexy trip with your new spouse the hottest it can be.
Start your honeymoon with some beautiful bridal lingerie in gorgeous white, which will make you feel glamorous as you revel in your new status as a wife. Pack the popular Heart Back Lace Teddy, which frames your backside in the most romantic and sexy of ways. And don't worry—you can still wear this in your own bedroom any time you want to get the very same reaction!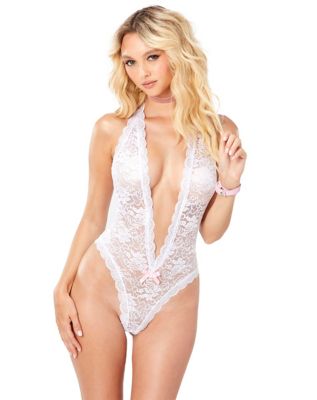 For lounging around, what better to wear than a White Lace Kimono Robe, so you can continue to celebrate all week long in comfort?
Whether you're feeling frisky in the morning, afternoon or evening, you can use your time together away from home to get even closer to your partner. No phone, no email, just the two of you in a blissful setting. Honeymoon sex doesn't have to mean trying everything all at once. It means you have this special time just for you, with no agenda except to celebrate your love—and lust.
Start by giving each other massages so you can truly let go and focus on the joy of being a newly married couple with nothing else to do except play with one another. To help you get comfortable and make your rubdown the kind that you want to last forever, try a Coconut Passion Massage Candle. With its sweet scent and soothing warmth, it will make the touch of their strong fingers all the more enticing as you sink into the sheets.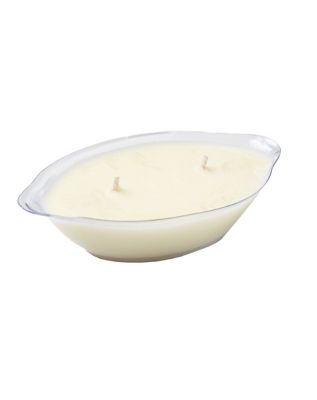 Once the massage is over, you'll likely be craving a more intimate kind of touch. If you're going to stroke each other as you get aroused, you'll want some lube to make everything that much slicker. An all purpose water-based lube is perfect for any of your sexual needs, whether you're using a toy or your fingers. Having it handy means you'll always be wet and juicy!
Adding a vibrator into the mix can a wonderful way to give each other pleasure. Maybe you're used to quickies at home, but now you can take your time and leisurely explore. If you've never seen your partner use a vibe, now's a wonderful opportunity to get to know what turns them on as you get an up close and very sexy show! This Bling Bang Waterproof Wand Massager can go with you into the bath or shower or stay in bed as you luxuriate in its powerful sensations.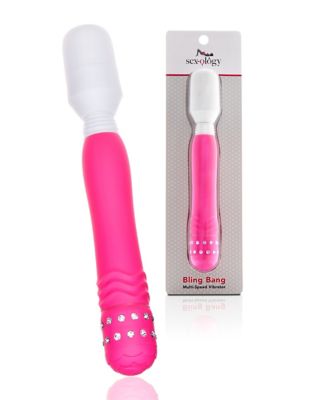 If you're a few days into your honeymoon, and have spent most of it naked having all kinds of super hot sex, you might want a few prompts to help you discover new positions. Enter 1000 Sex Games! This set is chock full of all sorts of ideas for foreplay, erotic games and more. Discover new sex acts you've never thought about, and get the nudge in the right direction you've wanted to say those naughty words lurking in your mind. You'll both win big when  you play these sex games, which you can continue to explore for many years.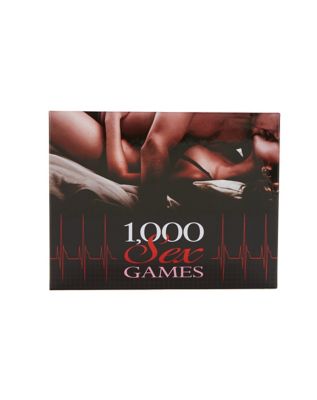 Another way to build intimacy is to turn out the lights and kiss and feel your way along each other's body. You can get some assistance with your arousal with this Hot Licks Vibrating Cock Ring, which will deliver exactly the sensations you each crave, while keeping him harder for a longer time.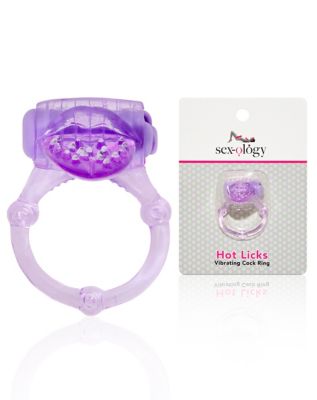 Nipple clamps are perfect for any time you want to add some extra oomph to your erotic adventures. Show them off in the mirror, tug on them, or let them dangle during sex for a beautiful image that will also make the action even hotter! We offer various options, and these Chain Nipple Clamps are easy to use and incredibly sexy, making them perfect for your private vacation time. Plus, they can be used by either or both of you, making them an equal opportunity sex toy!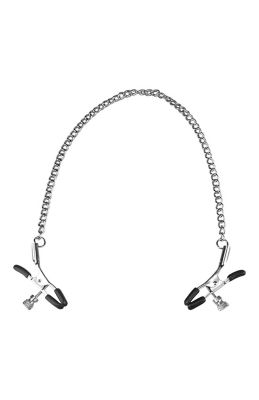 Your honeymoon is a chance to get a little wild and explore new types of sex as well as simply indulge (hello, room service!). Whether you're used to getting kinky or are simply curious, a bondage kit has everything you need to start your marriage off with some sizzle! Take your time and explore all the thrills of BDSM to see which you like the most. Don't feel like you have to try everything at once. These kinky sex toys are all designed with your pleasure in mind, so see which ones float your boat the most.
The Pleasure Bound Bedroom Bondage Kit is perfect for exploring your kinky side! Whether you're new to bondage or have done it before, you can easily experiment and take your newly married relationship to a new level. This five-item collection lets you live out your sexual fantasies in a fun way, with everything wrist restraints to ankle straps, plus a leather whip, a love mask and bedpost extensions. These easy to use bondage tools mean that your next sex session can be one of your hottest. Live out your sexual fantasies as you get to know your beloved in an even more intimate way. Use these kinky implements all at once or one at a time; either way, you'll surely hear moans of happiness.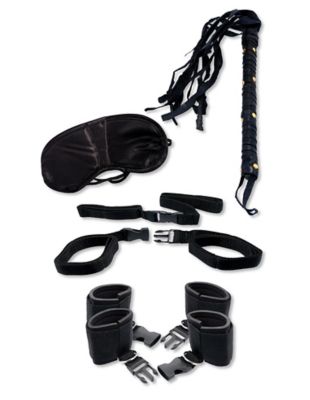 You may be spending most of your couple time in bed, but you have to venture outside sometimes! However, that's no reason your sexytime has to end. Slip into a pair of vibrating panties, hand over the control to your new husband or wife, and see what happens! This remote control underwear features a vibrator inside, controlled by your partner. So you just may get a little jolt of excitement when you least expect it! How's that for a fun start to married life?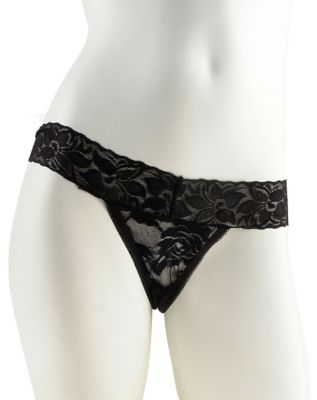 You can mix and match these adult toys with your old favorites for honeymoon sex that will have you buzzing long after you get home! Check out our wide range of couples sex toys and sex games if you want to continue to amp things up in the bedroom.