Are you all set for Valentine's Day on February 14th? Not so fast! February 13th is Galentine's Day, and we're here to remind you of its significance.
Valentine's Day can be exciting when you're romantically involved with someone. If you're in a new relationship, it's an opportunity to have an intimate dinner date and exchange heartfelt gifts. If you've been with someone for years, it's the perfect way to reignite the spark that first brought you together. But if you're single, Valentine's Day can feel like a day of exclusion.
Whether you're single, dating, married, or just having fun living your life, all of your relationships are valuable. Gal pals are especially important in their ability to lift you up, keep you laughing, and make you feel seen!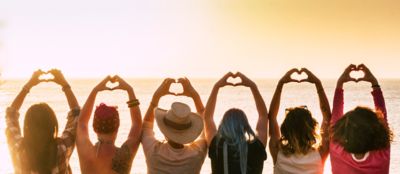 You don't have to wait for your BFF's birthday to roll around to celebrate her. Use Galentine's Day as a reason to express your gratitude toward your girls.
Here are a few ideas to help you get started:
Empower Her
Do you have a gal pal who's struggling to find a romantic partner? Remind her that she's a beautiful badass all on her own.
Looking for love can be emotionally exhausting. It's important to remind your friends that their relationship status does not determine their worth. These pretty pink earrings will remind your friends that their independence is powerful!
Make Her Laugh
There's something unique about the kind of laughter that happens between girlfriends. That red-faced, too-intense-to-stop, borderline painful laughter only takes place when you're with your girls.
When the world's best stand-up comedians can't compete with your bestie's story about That One Time in Middle School, you know you've got a good friend. Get her a funny little gift like this mug that's guaranteed to get her giggling.
Make Her Feel Beautiful
Get your girl an outfit that will make her feel confident. Bonus points if it's one that she wouldn't normally buy for herself!
Sometimes a walk outside of your fashion comfort zone is exactly what you need to feel like a brand new person.
This strappy bralette and pleated skirt combo will inspire your BFF to let her hair down and hold her head up high.
Remind Her to Love Herself
Romantic love is great, but have you tried self-love?
We all need to be reminded to love ourselves. Remind your friends to do small things each day to nurture their well-being.
Here are a few tips to pass on to your lady friends:
Forgive yourself when you make a mistake
Note the things that you like about yourself
Ask for help (and don't feel guilty about it)
Prioritize your mental and physical health
Reflect on the amazing things you've accomplished
The key to a lasting friendship is gratitude. Grab a greeting card, send a text message, or tell your girlfriend face-to-face that you appreciate her presence in your life! Happy Galentine's Day to you and your crew!