Happy Holidays, #MELLOGANG!
It's the most wonderful time of the year once again, and boy do we have an awesome assortment of ugly Christmas sweaters for you to rock this holiday season! It's no secret that here at Spencer's, we're major fans of DJ/Producer Marshmello and his music, and we know you are too! It's also no secret that Marshmello himself is a huge fan of Christmas and all the festivities that come along with it!
Do you see where we're going with this?
We know the #Mellogang is ALL ABOUT turning up for the holiday season and we loved seeing all you proud members take over the streets this Halloween with our officially licensed Marshmello masks and costumes! And to keep that holiday spirit cranked up to the max, we thought it would be a stellar idea to combine two of our favorite things: outrageous ugly Christmas sweaters and Marshmello to truly give you the dopest Christmas ever!
We hope you're all ears because this announcement contains zero fluff and we're going to give you the definitive rundown of the officially licensed Marshmello Christmas sweater collection, which will be available here at Spencer's during the first week of December! All the sweaters in our collection are unisex too, so girls can wear them as an over-sized style OR a sexy sweater dress (bow chicka wow wow…)

Now that you've heard the great news, what are you waiting for? Go on and grab yourself a hefty cup of hot chocolate, get nice and toasty, and let's get mello this holiday!
'Tis lit that we get to collab with Marshmello once again and this time we're going to add to our astounding collection of ugly Christmas sweaters! To start this thing out hot, we're kicking it off with one of our absolute faves. With this 'Tis Lit Ugly Christmas Sweater, you might have to call the fire department with all this ugly sweater heat you'll be rocking! Designed with a hilarious pattern that shows the famous Marshmello himself up in flames, you'll be sure to make your next Christmas, New Year's, or holiday celebration lit AF when you walk in with this sweater.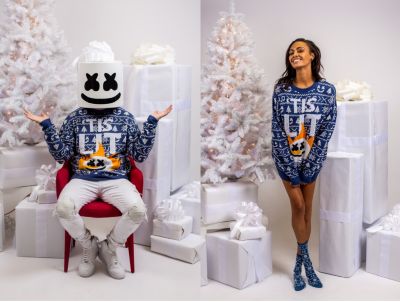 What better way to beat the cold than with a steaming hot cup of cocoa? Obviously, a steaming hot cup of cocoa plus Marshmello! You've heard of hot girl summer, well now prepare for a hot mug winter with this official Hot Mug Winter Ugly Christmas Sweater. This festive and fun ugly Christmas sweater is the perfect piece of clothing to help you survive those brutally cold winter months. Plus, everyone will know that you're a huge fan of Marshmello!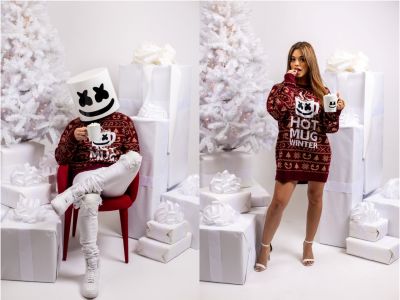 You'll be more than well-equipped to light it up this holiday when you decide to get your hands on this officially licensed Light-Up Marshmello Ugly Christmas Sweater. This ugly sweater is perfect for any winter rave or music festival and will allow you to show your love for Marshmello and the holidays all at the same time! Featuring colorful flashing Christmas lights and an official Marshmello design on the front, your ugly sweater game will go hard every day once this sweater is in your possession!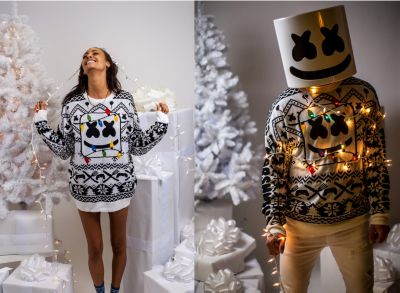 If you're going to get one thing right this holiday, make sure it's your style with this Sleigh All Day Ugly Christmas Sweater! Once you slip this sweater on you'll look stylish enough to slay the holiday runway, while staying super warm! This festive sweater is a great Christmas gift for any Marshmello fans and is great for sparkin' a little convo at your next holiday celebration (chicks dig Marshmello, mmkay?). Sleigh all day and make sure the haters stay away when you pull up wearing this one-of-a-kind ugly Christmas sweater.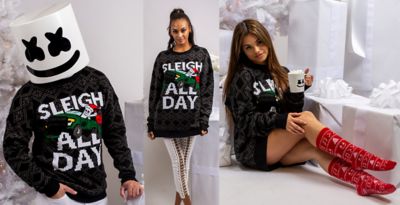 We're so pumped to bring you this very special collaboration and we hope we were able to make the #MELLOGANG proud! Believe us when we say, you're most definitely gonna want to check this out come early December!
Happy holidays, and remember to always keep it mello!