Get Ugly! *Cue "Get Ugly" by Jason Derulo at maximum volume* Ugly Christmas season is approaching and you know that what means! It's time for us to narrow down our favorite ugly Christmas sweaters of 2019. Spencer's LOVES Christmas and our motto is, "the uglier the sweater, the better the laughs." We don't really have a motto, but if we did… it'd be that! We've spent all year perfecting our favorite pieces for our favorite customers (that's you) so you can be the most outrageous guest at every party.
Light-Up Touch My Elf Ugly Christmas Sweater
We love a good play on words. This ugly Christmas sweater is the perfect way to show off your crude sense of humor and your holiday cheer at the same time. We can't guarantee you won't get the original song stuck in your head all night long, but at least you'll make all of your friends laugh out loud. With a 3D elf sewn onto the front of this sweater, there's no doubt you'll stand out in every crowd you enter.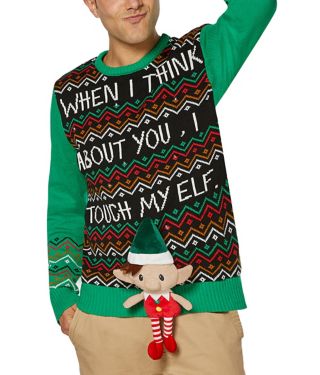 Light-Up Horny and Lit Ugly Christmas Sweater
Facts. With a 3D moose detail covered in Christmas lights, one would say this sweater is horny and lit! As if that's not outrageous enough, this sweater also features real Christmas balls and tinsel details for a Christmas look that is unlike the rest. This hysterical sweater is the best addition to your Christmas party style.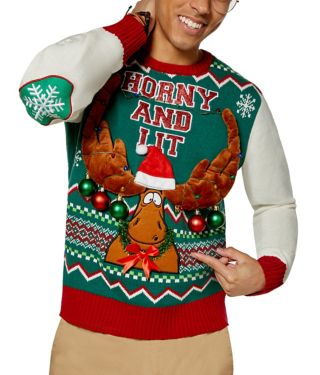 Light-Up Merry Xmas Prick Ugly Christmas Sweater
Okay, honestly, this is freakin' adorable and super punny. A cactus may not be the first thing that comes to mind when you think about Christmas, but who says you can't decorate a cactus and call it a Christmas tree! With a little bit of lights and a lot of reds and greens, this cactus ugly sweater looks like a Christmas must have to us!
Light-Up Decorated Mantel Ugly Christmas Sweater
We're putting a new spin on "stockings are hung by the chimney with care." This decorated sweatshirt will have you looking and feeling like a real mantel. With tinsel accents, stockings, and real Christmas balls, there's no way you'll blend in with the crowd. The brick graphic and banded hemline, neckline and long sleeves will bring instant style to every party you attend.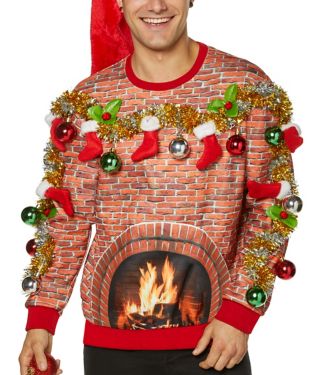 Nothing For You Whore Ugly Christmas Sweater
Listen, we all know someone who's been extra naughty this year. This hilarious sweater will @ them and you won't even have to waste your breath. This ugly Christmas sweater features a plethora of colors and patterns and a plush Santa graphic for extra style. Maybe next year your friend will learn that being naughty doesn't get you anywhere.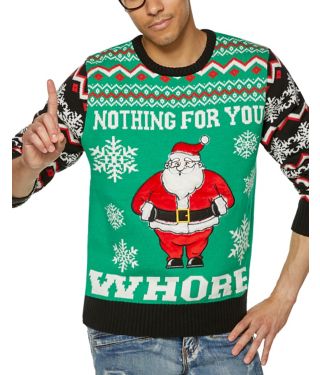 Tinsel Christmas Tree Ugly Christmas Sweater
This tinsel sweater is not only absolutely hideous, it's comfortable! If you couldn't tell from the pictures, the tinsel is supposed to be the tree needles, and the pom details are supposed to be ornaments. Add a Christmas tree air freshener and people will literally think you're a tree. Okay, maybe not, but it'll be funny.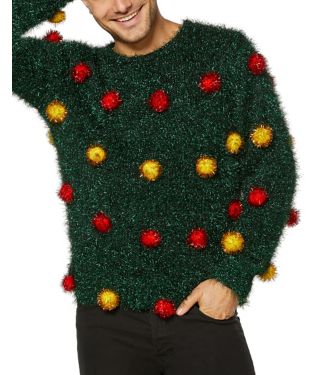 Ho Ho Hold My Beer Ugly Christmas Sweater
With ugly Christmas parties comes drinking, and that's why this ugly Christmas sweater made our top ten list. You know how girls go crazy for dresses with pockets? Well, this sweater has TWO pockets that'll hold your beer for you. Can you say "game changer?" You won't have to worry about your hands getting cold like… ever again.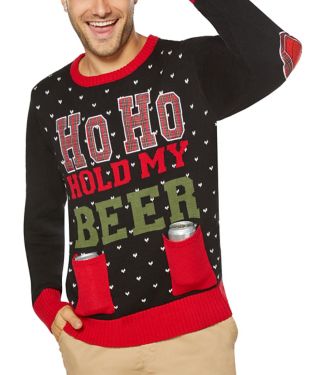 I'm Having A Fucking Meltdown Ugly Christmas Sweater
Ah, yes. Adulthood summed up in an ugly Christmas sweater. Aren't the holidays supposed to be fun? LOL SIKE. This hilarious sweater will show everyone what it's actually like to shop for 50 people, wrap a present properly and deal with your normal everyday stresses at the same time. You'll be surprised how many people are on your side when it comes to the whole "fucking meltdown" thing.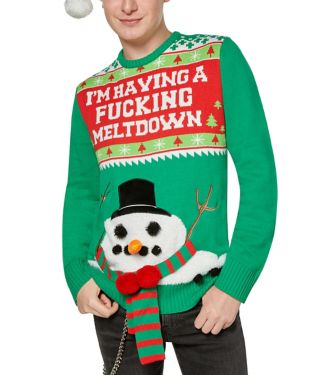 Let's Party Jesus Ugly Christmas Sweater
Jesus is a cool dude and seeing as it's his BIRTHDAY, he's absolutely ready to party. This hilarious sweater will have everyone partying like it's the Old Testament. Ask yourself: "What would Jesus do?" Then pop open another cold one. It's what the big guy upstairs would want you to do.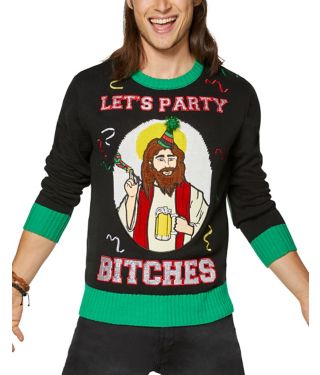 Tits The Season Ugly Christmas Sweater
Tits the season of girls being cold. All. The. Time. This sweater is perfect for all of those ladies out there who need their hands warmed. With functional mittens that are strategically placed over your girls, there's no doubt you'll stand out and keep warm! Get naughty and share your mittens with a friend… Santa stopped watching your behavior after Halloween anyway.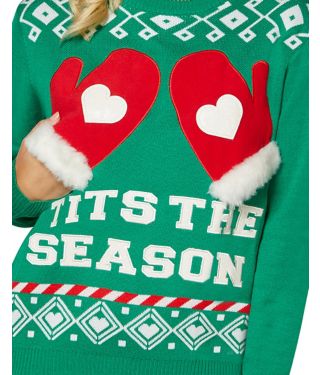 There you have it! It was really hard for us to narrow down to our favorites, so make sure you check out all of our ugly Christmas sweaters here!